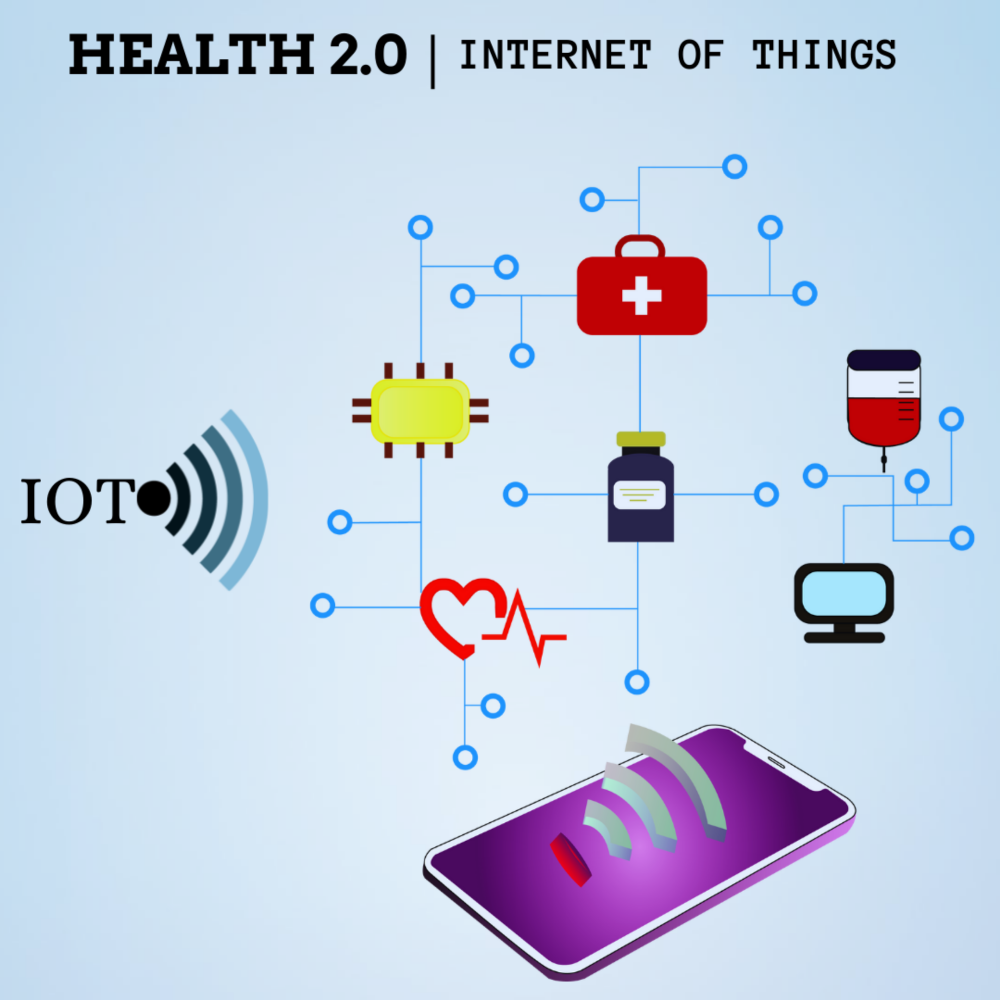 HEALTH 2.0 | What is IOT (Internet of Things) and how does it work ?
Health 2.0
ABSTRACT
Health 2.0! Sounds like something new, may be a new healthcare product, or a novel technology in healthcare. Well, you are right! The era of "Digital Everything", is an advent thought that has had a huge impact on the globe and being implementedalmost everywhere. Data of any kind is now being digitalized and its usage implies an accelerated growth in every industry.
Health Data integrated with automation is now helping mankind gaining an experience of keeping track of their results with ease.
Through this, you will get a clear and better understanding of the welfare of IoT in the healthcare workforce.
Introduction: What is IoT (Internet of Things) & how does it work?
IoT or Internet of Things is an embedded system that links with various software, sensors and technologies. The sole purpose of it is to serve a communicative data integrated module with other systems and devices over internet.
Everyday we can observe new technological advances in healthcare. The advancement in medical technology helpsthe doctors work more efficiently and enhances their experiences with patients. It also gives doctors access to a real-time test result and betterwith a Lower Expense rate.
IoT is now actively being integrated as a part of medical devices. Not only does it give better results but the data analytics also provides a better and easier way forward foe patients diagnosis.
How IoT works?
For the past two decades, we have seen extraordinary changes in the domain of science. The Evolution of technological speed in the realms of science and engineering is tremendous. We are not only virtualizing applied science but we are making them existent.
To obtain the maximum advantage of IoT (Internet of Things), Semiconductor chips have been scaled down and the storage capacity has been increased. Sensor technologies have been improvised and performance has been upgraded.
The processing and computing powers of hand-held devices are considered prime factors for IoT (Internet of Things). These in parallel with technologies like "Near Field Communications" (NFCs), Rapid frequency Identification (RFID) are both integrated into a miniature chip/circuit along with Data cloud platforms e.g., Google, Amazon.
As far as the most concerning factor of any IoT device is that it should be able to communicate with human data profusion and other devices. This network that is identifiable across the world as a unique identity is referred to as the "Internet of Things" (IoT).
How IoT works with healthcare?
In healthcare considering the digitalization of data, the growing trends are Preventive, Predictive, and Personalized.
IoMT or "Internet of Medical Things" if put into simple words, is a series of medical devices that are connected to a network and can collect, generate, store & share data, and also be able to analyze.
IoT can transmit data like body vitals, physiological data & genetic data. IoT has already defined the term "Smart Everything". From a simple body monitor to driver-less vehicles, everything is being customized to serve the rightful need.
Advantages of IoT on healthcare
Telemedicine/ "Hospital in a home"
In COVID-19 Pandemic a lot of people needed healthcare treatments at home as all the transportation facilities were stopped or we can say everyone was too afraid to get treated at a hospital, hoping the worst that, they might be exposed to Coronavirus. In such extremity monitoring, the health of patients in remote conditions was a challenge to all the doctors as well as medical facilities.
IoT being the technology we needed most at the time, patients were treated remotely by the delivery of healthcare services. That is why IoT (Internet of Things) can be a promising technology that will not only be a miraculous advantage.
The use of telemedicine grew rapidly in early 2000 as chronic patients were being treated remotely with the support of the internet. Over the past few decades collection of patient data has helped in the development of Electronic Health Records (EHR). EHR digitalize the patient's history that includes the patient's symptoms, current diagnosis, medication & it is shareable.
Senior Citizens, patients with chronic medical conditions are most likely in need of immediate medical consultation are prone to not getting the proper treatment. In such cases help in terms of telemedicine is very effective and efficient. Its usage is increasing rapidly and will continue to do so.
Wearables (Software as a medical device)
Since digital healthcare is being strengthened, technologies are trying to cover every aspect of human health. IoT Devices can monitor heartbeat, footsteps, estimate calories intake, and provides feedback on demand. These physiological data can be stored or transferred into cloud storage facilities and are accessible to those with permission. Electronic data helps in consultation and clinical decisions. Many wearables are now connected to mobile devices as it has shown great geometric progress in p the past decades and years to come.
Digitalization of Critical care
Critical care medical devices such as CT & MRI scanners, X-Ray, mammography devices, networked with IoT can capture and generate integrated EHR and imaging output that can assist with faster clinical decisions.
Artificial Intelligence (AI) assisted technologies can detect diseased tissues, wounds and tumors can generate actionable information. Proven innovations and practices indicate that AI can also reduce the false-positive recall of diseased profiles.
Smart-Hospital Management
A lot of medical assets go missing that are of use in hospitals. With IoT and the use of technologies like Bluetooth and RIFD integrated with sensors will help with keeping track of valuable medical equipment.
Takeway
COVID-1
9 is leveraging the opportunity for IoT in healthcare. The latest data from eSanjeevani (The Ministry of Health's teleconsultation platform) shows over 200 K remote consultations since its launch in November 2019 that shows tremendous progress. When our daily life will be recalibrated after the pandemic digital health might be on the top of the ladder. This has the potential of improving healthcare with an ecosystem of med-tech devices.