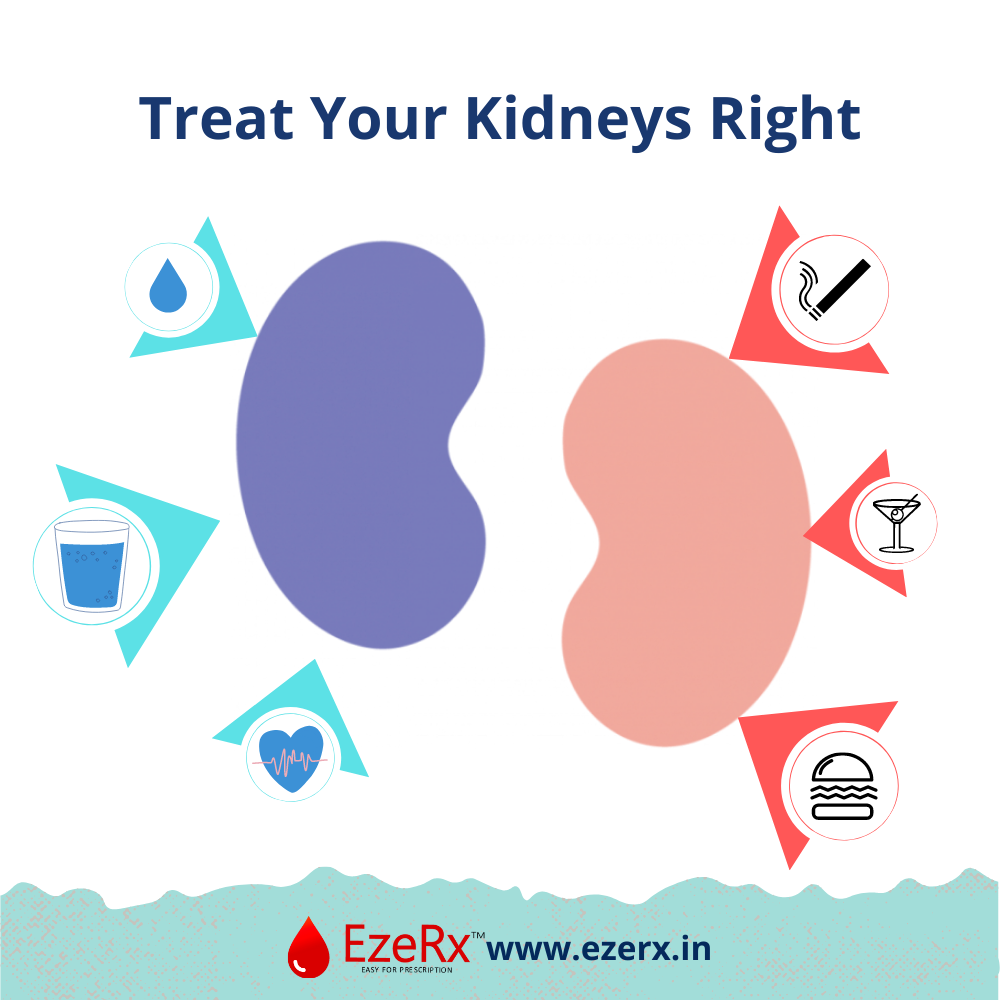 Treat your Kidneys Right
Ways to keep a healthy kidney
Kidneys are a pair of vital organs of the human body. They perform many functions but one most vital is to remove waste and extra water from the blood.
Kidneys excrete toxic materials by filtering the blood and keeping the body well-functioning and healthy.
WHY KIDNEYS ARE IMPORTANT?
Removes acid produced by the cells of your body

Maintains a healthy balance of minerals such as (Sodium, Calcium, Phosphorus, and Potassium)

Regulates Blood Pressure

Keep your bone strong and healthy

Release hormones for production of Red Blood Cells
RISK FACTORS:
10% of the global population suffers from kidney diseases. Chronic Kidney Diseases cause approximately 2 Lakh deaths every year in India alone.
The key to preventing kidney disease is to detect it before it is very advanced. So, it is much advised to keep a regular check before the trouble starts.
We have made it easier for you to Assess your risk.
Some Main Risk factor includes:
Diabetes

High Blood Pressure

Heart Disease

Obesity
Some other factors also contribute to the cause of the disease
Old age (Age 60 or Older)

Extended use of painkillers

Kidney stones

Chronic UTIs (Urinary Tract Infections)

Autoimmune disorders
POSSIBLE SYMPTOMS:
Most kidney diseases are undetectable in the early stages. By the time the symptoms of the disorder appear the disease may have gone to the advanced stage.
Pay attention to these as a sign of possible symptoms
Fatigue

Painful Urination

Blood in urine

Increased time of Urination

Foamy Urine

Swollen face, feet, hands, abdomen
HOW TO TAKE CARE OF YOUR KIDNEY!
It is important to maintain your overall health and wellbeing. A healthy kidney will produce vital hormones and filter waste to help your body function properly.
Here are some tips to keep your kidney problems at bay.
STAY HYDRATED
Kidneys need 2-3 liters of water to carry out the usual functions efficiently. An inadequate amount of water intake will lead kidneys to put extra effort into functioning. So do not cause dehydration to the kidneys, drink plenty amount of water for the kidneys to stay healthy.
KEEP A FIT PHYSIQUE
Being overweight increases blood pressure. High blood pressure is not a good sign for a healthy kidney.
Keep a healthy diet. Consult a dietitian to prepare a planned diet.
PHYSICAL EXERCISE
Exercising regularly is a healthy practice. Walking, running, cycling are a few which can keep you to stay fit. Have fun along with the practice and you will be rewarded a healthy kidney.
MAINTAIN BLOOD PRESSURE
High blood pressure damages the small blood vessels in the kidneys leading up to kidney failure.
You can get a quick checkup at your GP or Hospital. If your blood pressure is higher than usual then the doctor might prescribe some lifestyle changes or medication to reduce the blood pressure.
DO NOT SMOKE
When you smoke, it releases a toxin into the body. The toxins need to be filtered by the kidneys.
An excess amount of smoking leads a kidney to function harder than usual causing damage to itself. Avoid such activities for a healthier practice.
INCLUDE MORE GREENS IN YOUR DIET
Superfoods namely fruits and vegetables are rich in antioxidants, nutrients, and vitamins. These edibles should be consumed in good amounts to revitalize the body.
BE IN TOUCH WITH YOUR BLOOD SUGAR
Keep your blood sugar in check especially for those who are reaching middle age or older. Most of the people who have diabetes, do not even know that they have it in the first place.
Regular monitoring of blood sugar can prevent kidney diseases.
MODERATE ALCOHOL INTAKE
Alcohol intake induces weight gain and an increase in blood pressure. High blood pressure is one of the most common causes of kidney diseases.
REDUCE STRESS
Mental fitness has as much importance as physical fitness. Practice meditation, yoga to reduce stress. Reduced stress will improve your emotional health.
TAKEAWAY
The most important thing that can be suggested to keep your kidney healthy is to do not strain it. Make the kidneys healthy with proper nutrients and vitamins.
Eat healthily, exercise regularly, drink plenty of water for healthy kidneys.